Over 38 years of experience in garage door repair and trouble shooting. Do you have a garage door repair company you can trust to repair, fix or replace your garage door, springs or opener? Call US we offer 24 hour emergency service. After 38 years serving your city and its surrounding area we are recognized by the SOUTHERN CALIFORNIA GARAGE DOOR NETWORK ASSOCATION as one of the best garage door repair companies serving Los Angeles County.
Garage door sales, installation, repair and service in your area is the only work we do and it's always performed professionally. Our team of garage door repairmen, specialize in the repair, maintenance, installation, and replacement of all types of garage doors. We deliver top of the line parts fast, friendly and on time.
Broken Garage Door Springs
Garage door springs and torsion springs for section roll up doors, can pose a safety risk if trying to replace them yourself after one breaks. A garage door spring that breaks or shatters can send sharp shrapnel flying in any direction of the garage if it doesn't have a safety cable. Anyone inside the garage if a spring broke could be at serious risk of injury or death if a piece of the spring were to hit them.
Modern roll up sectional garage door pose little risk in the event of a broken torsion spring or shattering spring. These kinds of springs are installed over a torsion tube shaft that helps roll the door up to the open position. The shaft also acts as a retainer so that if a spring breaks it is not allowed to go fly around the garage.
On the other hand, the flip up style of garage doors or one piece garage doors can be a different situation. Old springs are subject to sending ballistic chunks of steel flying around your garage when a spring breaks. These old un-safe springs can be identified quite easily, because newer springs have a core rod that is retained inside the coil of the spring. This is a built-in safety feature, because the core rod will retain any chunks of spring in the event of breakage. If your spring does not have the proper safety cable call us to replace your garage door springs today.
Your best bet is have your garage door springs professionally replaced. You can always call us to replace your springs and make the adjustments to your garage door and service the garage door opener as well. It's a lot safer and doesn't cost too much and you know the jobs done right.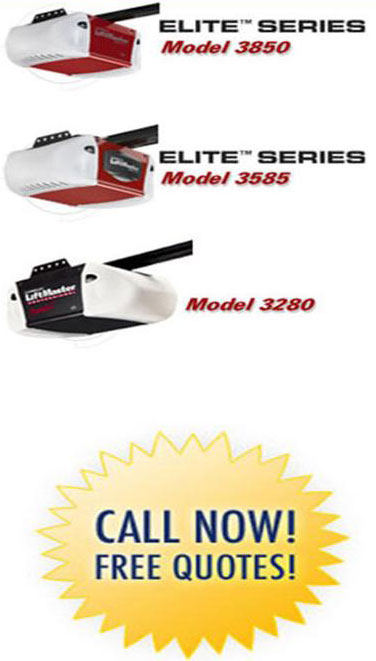 GARAGE DOOR SALE PRICE, GARAGE DOOR OPENER SALE PRICES, GARAGE DOOR PRICES NEW GARAGE DOOR PRICES, WE OFFER MANUFACTURES BARGAIN PRICE
NEW LIFTMASTER GARAGE DOOR OPENERS STARTING OFF AT $395.00 INSTALLED WITH 2 CAR TRANSMITTERS INCLUDING TAX
NEW GARAGE DOORS STEEL SECTIONAL ROLL UP DOORS 16 X 7 TWO CAR GARAGE WHITE, ALMOND OR BROWN STANDARD HARDWARE UPGRADED TO 2 SPRINGS UPGRADED TO BALL BEARING WHEELS LONG OR SHORT PANEL DESIGN SALES PRICE AT $735.00 INSTALLED
CALL NOW FOR PHONE PRICE QUOTES


We offer New Garage Door Springs, Torsion Springs, Repair Broken Spring in:
LA CANADA GARAGE DOOR COMPANY \ FLINTRIDGE GARAGE DOOR COMPANY
LA CRESENTA GARAGE DOOR REPAIR \ SOUTH PASADENA GARAGE DOOR DEALER
SUNLAND GARAGE DOOR DEALER \ TUJUNGA GARAGE DOOR COMPANY
GLENDALE GARAGE DOOR COMPANY \ LAKE VIEW TERRACE GARAGE DOOR REPAIR
PASADENA GARAGE DOOR COMPANY \ BURBANK GARAGE DOOR COMPANY
SUN VALLEY GARAGE DOOR DEALER \ SPARR HEIGHTS GARAGE DOOR REPAIR
ALTADENA GARAGE DOOR COMPANY \ MONTROSE GARAGE DOOR COMPANY
SHADOW HILLS GARAGE DOOR REPAIR \ LA TUNA CANYON GARAGE DOOR REPAIR
PACOIMA GARAGE DOOR COMPANY \ ARLETA GARAGE DOOR COMPANY
SAN FERNANDO GARAGE DOOR REPAIR \ PACOIMA GARAGE DOOR DEALER
91214 | 91011 | 91042 | 91040 | 91342 | 91011 | 91020 | 91202 | 91207 | 90215 | 91501 | 91504 | 91352 | 91006 | 91008 | 91001 | 91104 | 91023 | 91107 | 91206 | 91203 | 91103 | 91104 | 91106 | 91105 | 90041 | 91107 | 91214 | 91011 | 91042 | 91040 | 91342 | 91011
GENIE GARAGE DOOR OPENERS WE REPAIR FOR YOU:
Alliance, Blue Max, Genie Pro, Intellicode<br />Norelco, Pro Max, Stealth
Genie BELT DRIVE
GPS1200|IC | GPS700|IC
PRO706|BC | PRO0800|BC
PRO1000|BC | PRO1200|BC
Genie EXCELERATOR
PRO99|2IC | CMD9900|IC | ISD990|2 | ISD1000
Genie SCREW DRIVE
GS980 | 9800 | 880 | 8800 | GS820 | 8200 | 7200 | 850 | 800
Genie PRO82 | Genie 98 | Genie 88 | Genie 90 | PRO83/93 | PRO88S/98S
CM7500 | CM8500 | CM7500S | CM8500S | G|CL SERIES | IS SERIES
CSD 0706 | CSD 0800 | ALC 60 | 70 | 80 | 75|IC | 85|IC RCD 225 | 250 | 500 | 550
CM7600|IC | CM8600|IC | PRO95
404 | 450 | 409 | 459 | 419A | 420 | 414 | 419 | 800
8200 | 8800
SD SERIES | 9500 | 9000 | 8000 | 2500 | 5000
GXL/GX/G SERIES | 9500 | 9000 | 2500 | 5000 | 10000
Trilo G 1500 | Trilo G 1200 | G Power 900 | Intelli G 1200 | Intelli G 1000 | Relia G 800 | Relia G 600
Genie BELT DRIVE
GPS1200-IC - GPS700-IC
PRO706-BC - PRO0800-BC
PRO1000-BC - PRO1200-BC
Genie EXCELERATOR
PRO99-2IC - CMD9900-IC - ISD990-2 - ISD1000
Genie SCREW DRIVE
GS980, 9800, 880, 8800 - GS820, 8200, 7200, 850, 800
Genie PRO82, Genie 98, Genie 88, Genie 90 - PRO83/93 - PRO88S/98S
CM7500, CM8500, CM7500S, CM8500S - G-CL SERIES - IS SERIES
CSD 0706 - CSD 0800 - ALC 60 - 70 - 80 - 75-IC - 85-IC RCD 225 - 250 - 500 - 550
CM7600-IC - CM8600-IC - PRO95
404 - 450 - 409 - 459 - 419A - 420 - 414 - 419 - 800
8200 - 8800
SD SERIES - 9500, 9000, 8000, 2500, 5000
GXL/GX/G SERIES - 9500, 9000, 2500, 5000, 10000
LIFTMASTER GARAGE DOOR OPENERS, SALE OF LIFT MASTER GARAGE DOOR OPENER, INFORMATION ON LIFTMASTER GARAGE DOOR OPENER, BUY A LIFTMASTER GARAGE DOOR OPENER, LIFTMASTER GARAGE DOOR DEALER IN LONG BEACH. Liftmaster BELT DRIVE
3800 | 3850 | 3840 | 3595 | 3585 | 3280 | 3275 | 3265 | 3245 | 3240 | 3255 | 3130 | 1355 | 1345 | 1356
Chamberlain
WD822ks | WD822kls | DD610s | DD612s | DD612kls | PD420 | PD420-2 | PD460-2k | PD460-2 | PD422D | PD432-D
NEW LIFTMASTER GARAGE DOOR OPENERS
8550 Elite Series® DC Battery Backup Belt Drive
3850 DC Motor Belt Drive with Battery Backup System
3585 3/4 HP Belt Drive Garage Door Opener
3280 1/2 HP Belt Drive Garage Door Opener
The Elite Series chain drive 3595 has 3/4 HP
8360 Premium Series DC Battery Backup Chain Drive
Premium Series DC Battery Backup Chain Drive
3595 3/4 HP Heavy-Duty Chain Drive Garage Door Opener
3275 3/4 HP Chain Drive Garage Door Opener
3265 1/2 HP Chain Drive Garage Door Opener
3255 1/2 HP Chain Drive Garage Door Opener
3245 1/3 HP Chain Drive Garage Door Opener
1355 1/2 HP Chain Drive Garage Door Opener
1345 1/3 HP Chain Drive Garage Door Opener
1356 1/2 HP Chain Drive duel sprocket Garage Door Opener
3240 1/2 HP Screw Drive Garage Door Opener
3130 1/3 HP Screw Drive Garage Door Opener